SECOND PART
---
The location of industries in western Italy implemented at the beginning of 1900, was a calculated system to facilitate profits and immigrations for hide a huge suppression plan toward a population that was bothering someone.
The plans of Pike and Mazzini suggest several hypotheses on what is now our present and future (http://www.threeworldwars.com/albert-pike.htm).
Many famous industries brands and commercial activities fall out under the worst pressure of State and banks power. In north western Italy the fall out began officially in early eighties (but in realty at the end of sixties) and now is the total desert of jobs. Meantime in the north eastern Italy (early eighties) the local false growth began just in the same times of western fall and now, they count the closure of their jobs and the illusion of the false welfare at the rythm of 3-7 suicide a day.
Like a clockwork, the chinese buy for a bit and cash money ours brands, activities and buildings for own business.
Is this our salvation?
No.
Their jobs are only for chinese. Why the our State facilitates their take over? This is well explained by Ben Fulford and Jay Parker: a old fraud of nine centuries ago by the ancestors of Rockefellers. Silver in change of gold, a thing similar of the bank derivates and now the mondial community must pay for them. This seems very bizarre, but makes everything in a credible way.
Often, I think about Adriano Olivetti and his town Ivrea.
He was a genius over the mass. His work metods, his firm with great windows in front the mountain, Ivrea the town in human size with Olivetti mayor, virtual father and close to needs of his workers and builder of the first big computer that had to be competitor of Honeywell and G.E., the builder of that valley called later "the Italian silicon valley".
A little paradise destroyed by politic and syndacate greedy of power under the US's power command.
In this website the records and memories by the former workers of Olivetti:  http://www.olivettiani.org/
Ivrea was founded by Salassi and the Roman empire called this town Eporedia.
Same paradigm of Olivetti, but more little, was the Leumann enterprise and his worker village in Swiss style bordering with Turin-Rivoli. The firm does not more exist from decades but yet exist the rebuilt village for turists.
Celebration in US (Orlando-FL) is a modern copy of these paradigms.
Now the real Piedmont natives are rare like Panda and out of the principal towns (the results of the politics of unique son typical of industrial society and the fruits of immigration). The natives now are located in country villages like in a reservation, the same of american natives in their reserves. The youth have lost our identy in a slow process of italianisation and only the old emigrants around the world have conserved language and traditions expecially in Argentina.
In order of the true, we must say also that exist a strange paradox that put in evidence cases of immigrants grew in the core of Piedmonteses who carry on our traditions better than us.
It's my opinion thats only few natives in Susa valley have interest to preserve our identity (these are above the Saint Michael ley line and is not a case ...).
Others are in the eastern Alps valleys of Piedmont and in Monferrato (the L syncronic isle). Turin have lost totally his identy: many Turinese natives like are emigrate in countryside far Turin because the criminality and the convivence with allochtonous and silly allogeneic renegade turineses is insostenible.
My grandparents did the same in 1922 for the arrogance of fascism and its silly hierarchs. They left their commercial activity in the full center of Turin for living in Monferrato like farmers.
The  north western Italy great towns are ruled by the worst politics that enlists fake natives, the worst natives brainwashed, strangers immigrants.
All togheter are the best instruments in the hands of the worst lobbies and evil forces.
Wastages, political frauds, red light cams and speed check fraud, unjust and absurd disproportionate taxes, the most worst public and private service, election frauds, and so on.
This is Italy under another fraud command called UE and its regime.
Thats is the real fact in the our towns: greedy foreigners and blind and stupid renegades Piedmonteses servants of power that guide the community.
Who leads the worst lobbies? We know them, but their goal is alredy accomplished.
Then the gooders and compassion are the weapons tips of the enemy.
The Church is another power apart and in accord to subdue the people. Twenty centuries of a cloak absolute power.
Why? Simple, the absolute power in Italy is in the hands of the Italian southern politics servant of dark forces from the end of WWII.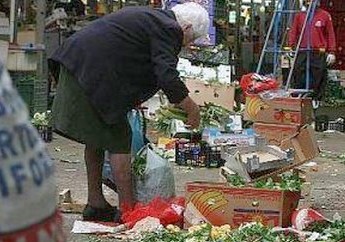 Real pictures of elders in north western Italy (for others pics type on google pics: povertà in Italia).
I have read and translate privatly (very probably the only one in Italy) the R.M.Sky stories and over the half of the story of his graduate thesys (the rest is vanishing of his site before that i had terminated), a great story about his contrast with the prof. Vrang and his assistants Lisa and David, a tremendous paradigm of logic and cleverness, an amazing stuff.
R.M.S. fourty years ago had unveiled that Sitchin and then Biglino and many others told us in their conferences and books.
R.M.S. had theorized precisely in T.p. 2  what would happen today.
Others are in same path, but i think - is my personal opinion - that his stories are forward everybody.
For example, Mauro Biglino claims in his books and conference that the people of Yhwh burned animal flesh with fat. This was for Heloim like a drugs, a feromone.
An ESA physical explains to Biglino that odor is the same inside pressurised suit: a chemical reaction between sweat and pressurized oxygen.
Now, the astronaut S. Cristoforetti claim the same things: the things in space stink of burning and stale.
The Elohim were spacial beings.
The Cristoforetti's claim about the space odor:
http://maurobiglino.it/2015/02/samantha-cristoforetti-e-bruciato-e-stantio-lodore-dello-spazio/
Now like usually says my mentor R.M. Sky "I suggest you ...", I suggest you to explore the sky over the commercial activities of barbeque like those in my zone. These are commercial activities that offer flesh, barbeque tools and place to consume local natural products.
This is a great "fiesta" for kids and parents like a "pow wow" but without dance, dancers and fry bread.
If this fiestas are near synchronic - ley - lines expecially like the ours Saint Michael line, the L island, Musinè and in front of Rocciamelone mount, take a look at sunrise for a strange phenomenas.
Sometimes happened ...
For Biglino and many researchers and ufologists, is common opinion who these ETs are among with us yet.
It is true for me also, just not only look at the ground.
In Italy many studies about the ancient e recent history unveiled many deformations on official history.
A group of scholars and writers (Giorgio Vitali, Gian Paolo Pucciarelli and various youtube guests) nicknamed "Accademia della Libertà" on web reveal facts and stories that compare itself with official history about zionist's Italian slavery and his italian servants accomplices.
Notes: the Hebrews are Hebrews and zionists are zionists.
The recent book of Gioele Magaldi, freemason Grand Master founder of Grande Oriente Democratico - G.O.D. -, a order born from a scission of Grande Oriente d'Italia - G.O.I. - unveiled the facts, members and the worst about the supranational lodges that lead the world.
This book goes alongside the books of Leo Zagami "Confessions of a Illuminated" that explain the historical background of Freemasons, Jesuits and Vatican.
This book cooming soon in english thus the world may knowing a big part of true.
In other word, now with the web that meets the persons and colture around world, is possible rebuild or theorize new frontiers of the true inside the official history.
Mauro Biglino, Gioele Magaldi, Paolo Barnard, Giulietto Chiesa and many others less famous, are the last hope for wake up Italy but is hard fight the lords of the lobbies if the people is not informed and are slave of mass media and their brainwashed.
I suggest to the lectors to translate in english the new youtube conferences of Mauro Biglino and also the 2015 conference of Corrado Malanga (expecially EVIDEON files) about coscience and photons.
And more, the experiments of Calogero Grifasi on youtube about the regressive hypnosis.
The first Mauro Biglino book in english
   read his first book in english
Then also read the five levels of learning by Wes Penre free downloaded on his site (widget on my forum portal). Penre has great stuff and is a strong private scholar.
This is a British Patè video about the southern Italy invasion in Turin of the early '70.
The invasion begun after the II WW that continues today. Take a look to the people's faces: no one is piedmontese.
Now we have lost identity, language and "solis et sanguinis".
We were the tech lab of Italy, a locomotive, the legacy of Taurini and Salassi, of Rama: nothing is more the same.
We can thank the multinational corporations, the FIAT and his history (read about it on Fondazione Cipriani web site), the Church, but this an another story.
And is another story the true story about the take over of Bossi's Northern League on Roberto Gremmo's "Piemont" movement. A perfect plan of secret societies and secret services for destroy our identity and the real potential rebellion against the cabalist system (listen Franco Levi's speach on Radio Radicale archive about the Northern league and his take over on Gremmo's movement - http://www.radioradicale.it/scheda/39626/39662-assemblea-dellassociazione-iniziativa-radicale listen from time bar 54min).
I have learned much from mr. Robert Morning Sky and now, I know much more about the linguistic roots.
Calabria is the region with much more people in Piedmont.
For me is not a case.
On R.M. Sky path and his teachings I have much learned.
I have translate Calabria in Cal-abria. Cal is also "Kal" and "abria" in english is similar to the word "Ebrew".
Kal is the word that in Ebrew is "voice" or "vessel" thus ... kal-ebrew - Cal-abria - vassel of ebrew or voice of Ebrew -.
Curious? Bizarre? Silly? I don't know.
This a thought, a windmill in my mind that suggesting me a lot of things.
In the tradition of Piedmont natives language there are two typical expressions: teron (pronucied teh-roon) reportedly to the Italian southern people, and a blasphemy against the Bible God: "dio faus" or its abbreviation "dio fa" (god false, pronuncied dee-hoo fah-hus and in abreviation - for masked the blasfemy - dee-hoo fah).
For the first, is a Italian common opinion that derives because the southern people are uncouth peasants that able only digging large clods.
False for me.
Teron is Terone (http://it.wikipedia.org/wiki/Terone), an ancient  sicilian tyrant.
It is known that southern Italians are more aggressives of the northern Italian: mafia, camorra and andrangheta, are activities  born in southern Italy. The Soprano's TV serials is a good paradigm.
Terone was a precursor of this concept and our ancestors remembered him.
Second point: the blasphemy.
For centuries the roman Church claimed Yhvh the father of Jesus.
False, Yhvh is not the father of Jesus the Christ.
Infact, in 2002 the Church changing his opinion (dogma), no God in Bible but Lord.
Would be more correct say Overlords of war and evil.Our Piedmontese elders knowed the truth about it but the youngers no.
Now Mauro Biglino explain us all the truth about Bible and its Gods and demons.
Why destroy our heritage, our identity, our culture, our welfare, our work along the centuries, our ley lines (the Saint Michael line) and our thoughts?
Is Turin (or Milan and any point of western Italy) a Kalergi goal pattern for the globalist evil?
If the globalism and its worst servants destroy the human job, his sweat, his heritage and legacy, his works, is the "great" NWO plan?
Or is the NWO's slavery plan?
No one left to tell about it: facts are facts.
The last but not least story.
Germany is the strong tech power in UE. Turin was a master point in automotive and his supply.
In a Turin area (Nichelino) the automotive supplies was very strong in early past.
Now is fall because Fiat as gone away from turin and the german automotive is very interested in our know own.
Mercedes and Volkswagen get their automotive products from our industries.
For Germany this is quality, professionality and experience low cost because our industries are in strong crisis and constrict to work low cost.
The Germans glad, pull the rope to level of chinese cost, thinking to realize their goals.
But our workers of an automotive thermoplastic enterprise, tired of their tyranny, say them a strong "no!".
The Germans released a new better contract to this enterprise.
Turin and Germany, a old story from the time of Messersmith planes in Pininfarina factory at WWII era.
Who bothers Piedmont? Who wants destroy it?
I'd suggest some stuff about Simon Parkes to connect with other stuff about Giulietto Chiesa, Leo Zagami, Ben Fulford, James Casbolt, Wes Penre and many others.
This stuff rides the real, the bizarre and all between all.
Is a war of worst ancient archons and some men are their servants?
May be ... is real and very bizarre ...
Or not ...?